ACT Missile (would be called Alpha Missile) is a Normal Move Card. It was only available in the Japanese arcade.
Statistics
Edit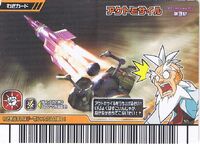 Attribute: Normal
Sign: Rock
Usage Condition: This Move activates when you win with Rock after the icon "!" has appeared.
Effect: An Actroid launches a giant missile into the air, which flies down, crashing at your opponent's feet and exploding! (This often takes some time to happen.)
It was only available in Japanese arcade.
Gekizan 3rd Edition (New; 052-技; ft. none)
Kakushin 2nd Edition (026-技; ft. none)
Kakushin 4th Edition (032-技; ft. none)