Ace
Talk

0
637pages on
this wiki
Ace (Ace) is Rex Owen's faithful Carnotaurus. He is voiced by Seiko Tamura in the Japanese version. His species is Rex's favorite dinosaur.
Statistics
Edit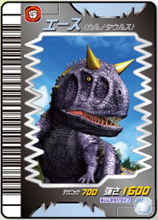 Attribute: Wind
Power: 1600
Technique: 700
Sign: Rock
Owner: Rex Owen (D-Team)
Name: Ace (エース Ace)
Debut: Battle at the Pyramids
Dinosaurs Defeated: Terry, Spiny, Tank, Carcharodontosaurus, Utahraptor (with Chomp), Ankylosaurus, Suchomimus, Alpha Acrocanthosaurus, Acrocanthosaurus, Baryonyx, Allosaurus, Saurophaganax, Black Tyrannosaurus, Torvosaurus, Megaraptor, Gojirasaurus, Deinonychus, Afrovenator, Lexovisaurus, Isisaurus (with Chomp), Gigas (with assistance), Maximus (with assistance), Armatus (with assistance), Bronto (with assistance)
Other: Ace lives alongside Chomp at Max's house. Ace has two other forms, Super Ace (differs from Super Carnotaurus) and DinoTector Carnotaurus. Ace has a rivalry with Tank, often beating her with Ninja Attack. Ace is afraid of water, the only exception is in episode 32, where Ace jumps into the water to save Rex.
Move Cards
Edit
TCG Lores
Edit
Ace can be accessed in the DS Game by using a specific code on the Stone Circle after beating Dr. Z with his Tyrannosaurus, Mapusaurus, and Saurophaganax if the player is Rex.
TCG Gallery
Edit
Arcade Gallery
Edit
thumb|300px|left|(c) alainbeXD