Air Raid Storm is a Wind Move Card.
Statistics
Edit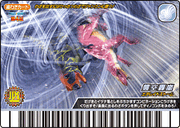 Attribute: Wind
Sign: Special
Effect: Grab your opponent, drag them into the air, throw them down, and then ram into them!
In the arcade game, you have to win using the move button of your dinosaur's sign to use this Move.
Ad blocker interference detected!
Wikia is a free-to-use site that makes money from advertising. We have a modified experience for viewers using ad blockers

Wikia is not accessible if you've made further modifications. Remove the custom ad blocker rule(s) and the page will load as expected.