A proposed close relative of Tarbosaurus (which, if true, would prove a clear difference between Tarbosaurus and Tyrannosaurus), it was small for a tyrannosaurid, though the known specimens do not represent adults. A recent study has, however, suggested that it is not in fact a true tyrannosaurid, but instead lies just outside the group.
General Statistics
Edit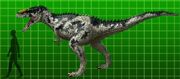 Name: Alioramus remotus
Name meaning: Other/Different Branch
Diet: Carnivore
Length: 5-6 meters (16.5-20 feet)
Time Period: Late Cretaceous
Classification: Tyrannosauroidea --> Tyrannosauridae(?) --> Alioramini
Place found: Mongolia, China,Russia
Describer: Kurzanov, 1976
Dinosaur King Statistics
Edit
Attribute: Fire
Power: 1000
Technique: 1100
Sign: Rock
Other: It has a super form at Alioramus/Super.
TCG Lores
Edit
Element Shift: Water (Lurking Alioramus)

During your turn, you can discard 1 card. If you do, this Dinosaur's Element is both Fire and Water until the end of the turn. (You can't use this ability during an attack.)

Final Bite (Roaring Alioramus)

After this Dinosaur wins a battle during your turn, if your opponent doesn't have any Dinosaurs in play, they lose 2 Life Points.