Alpha Allosaurus (also called Super Alpha Allosaurus in the arcade/DS game) is an Alpha Gang altered form of Allosaurus, being twice as strong.
Statistics
Edit
Arcade & DS
Edit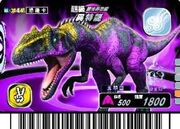 Japanese
English: Series 2 4th Edition (ACT008-Dino; Poison Type)
Taiwanese: Series 2 4th Edition (ACT008-龍; Poison Type)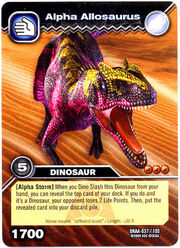 Species: Allosaurus
Attribute: Wind
Sign: Paper
Power: 1700
Level: 5
Life: 3
Card Code: DKAA-037/100
Card Rarity: Common
Abilities:
[Alpha Storm]

When you Dino Slash this Dinosaur from your hand, you can reveal the top card of your deck. If you do and it's a Dinosaur, your opponent loses 2 Life Points. Then, put the revealed card into your discard pile.