Most of the scientific community is convinced that fossils identified as "Allosaurus atrox" actually represent large individuals of the type species of Allosaurus, A. fragilis.
Statistics
Edit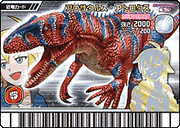 Name: Allosaurus atrox
Name Meaning: Atrocious Different Lizard
Diet: Carnivore
Length: 9-11 meters (30-36 feet)
Attribute: Wind
Power: 2000
Technique: 200
Sign: Rock
Other: This is another species of Allosaurus, but it is not an altered dinosaur; the normal version is "Allosaurus fragilis".
Allosaurus atrox doesn't have a TCG card but does appear on the DKTA version of Razor Wind and on Rumbling Storm.
Ad blocker interference detected!
Wikia is a free-to-use site that makes money from advertising. We have a modified experience for viewers using ad blockers

Wikia is not accessible if you've made further modifications. Remove the custom ad blocker rule(s) and the page will load as expected.