Most of the scientific community is convinced that fossils identified as "Allosaurus atrox" actually represent large individuals of the type species of Allosaurus, A. fragilis.
General Statistics
Edit

Name: Allosaurus atrox
Name Meaning: Atrocious Different Lizard
Diet: Carnivore
Length: 9-11 meters (30-36 feet)
Dinosaur King Statistics
Edit
Allosaurus atrox was only available in arcade.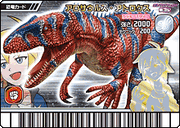 Sign: Rock
Power: 2000
Technique: 200
Attack:

Rock (Critical): 950
Scissors/Paper: 400

Type: Lucky 7 Type
Arcade Nickname/Catchcopy: 究極のエリミネーター (The Ultimate Eliminator)
Card Rarity: Gold
Other: This is another species of Allosaurus, but it is not altered. Allosaurus fragilis is the "normal" species.
Allosaurus atrox was only available in Japanese version.
Gekizan 3rd Edition (New; 029-竜)
Kakushin 1st Edition (001-竜)
Dr. Taylor's arcade comments:

Original: ジュラきを代表する肉食恐竜だ。口は大きく開くことができて食いちぎったえものを丸のみにしていた。
Translation: A representative carnivore of Jurassic Period. Its mouth can widely open and cut everything it eat.

It is the second gold rarity Wind Dinosaur card in the arcade.
Along with Lambeosaurus magnicristatus and Titanosaurus colberti (Isisaurus), it is one of the only three dinosaurs in Dinosaur King representing a second species of its genus (or at least named as such by Dinosaur King, as various species have been shuffled around by science since the game's release).
Allosaurus atrox doesn't have a TCG card but does appear on the DKTA version of Razor Wind and on Rumbling Storm.