Anhanguera Dive is a Normal Move Card.
Statistics
Edit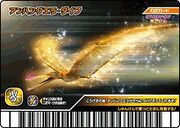 This card was only available in the Japanese version.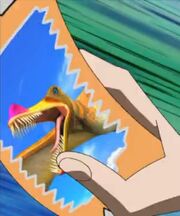 Anhanguera was summoned in Ancient Persia by Foolscap's Pachyrhinosaurus. It attacked and quickly defeated Ace, but then Zoe used Green Impulse to summon Tupuxuara, which managed to defeat it by dragging it along the ground. The card was reclaimed by (presumably) Zoe.
Later it was shown in the Alpha Gang's possession when Ursula had Spiny use the Move in Renaissance Paris to help save the D-Team after they fell off a collapsing bridge. This time, the Move summoned 2 Anhanguera, who saved Rex and Max. They then joined the Tupuxuara from Tupuxuara Dive to chase away Foolscap.