General Statistics
Edit

Dinosaur King Statistics
Edit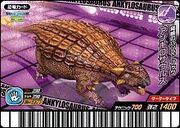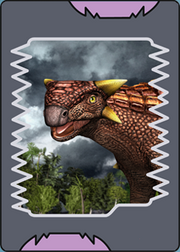 Move Cards
Edit
Assault your opponent by burrowing underground and springing up to hit them! The first Ankylosaurus relied on being pushed into the ground by its opponents before activating this Move, presumably to disguise its upcoming attack. Both Ankylosaurus beat Tank with this Move.
Ankylosaurus
Edit
Figure Ability (DKPM)

When you Dino Slash this Dinosaur, put its figure on it. While this Dinosaur has its figure on it, your opponent can only attack this Dinosaur. After this Dinosaur battles, remove its figure.
Roadblock Ankylosaurus
Edit
[Quake]

At the end of each of your opponent's turns, they lose 2 Life Points.
In Dino Snore!, his card was activated along with his Move Card in a subway when a pile of dirt fell on them. It tried to sleep, but it got disturbed by construction workers and began wandering the tunnels, interrupting the subway trains. It fought with Tank, and was nearly defeated by Dino Swing, but soon defeated her with Mole Attack before retreating further into the tunnels. The Alpha Gang chased it down again, lassoing its tail, making it run out into a subway track overpass in the middle of the city. Despite the D-Team's efforts, the loud noises of the city drove Ankylosaurus wild, and it went on a rampage, forcing Ace to battle it. It hit him with Mole Attack, but was thrown into the air by Ace's Cyclone, returning to a card upon impact with the ground. Its cards were picked up by Max, who gave them to Rex.
Mesozoic Meltdown
Edit
In All For One, Foolscap used another Ankylosaurus to battle Tank when he thought that the Alpha Gang had the Green Cosmos Stone. She knocked him away, but he defeated her with Mole Attack. Later, he was summoned to fight against Ace in his Spectral Armor form, easily knocking him away. Even when Armatus fought alongside him against Chomp and Paris, Foolscap's dinos were still winning. However, when Chomp, Ace, and Paris combined their Ultimate Moves, Foolscap heard the location of the Cosmos Stone from Richelieu and recalled them both before the attack hit them. Ankylosaurus was never directly seen after this, but was presumably freed after the D-Team defeated the Space Pirates.