Aqua Whip is a Water Move Card.
Statistics
Edit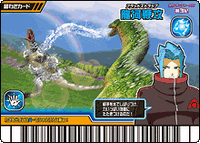 Attribute: Water
Sign: Paper
Owner: Gavro (Space Pirates)
Used By: Baryonyx
First Appearance: Dinosaurs, Ninjas, and Bears! Oh, My!
Effect: Shoot a lasso of water from your mouth to grap your opponent, then swing them around and smash them into the ground!
Other: Gavro had his Baryonyx use it to attack Ace, but Chomp knocked Baryonyx over, breaking his use of the Move and freeing Ace.
TCG Lores
Edit
+1000; (Only a Scissors Water Dinosaur can use this Move.)
Artwork from its various arcade cards is also seen on the TCG Move Cards Acid Rain and Drowning Deluge.
In the arcade game, you have to win at Paper to use this Move.
This was the first Water move card created by Sega.
Ad blocker interference detected!
Wikia is a free-to-use site that makes money from advertising. We have a modified experience for viewers using ad blockers

Wikia is not accessible if you've made further modifications. Remove the custom ad blocker rule(s) and the page will load as expected.