Atomic Bomb is a Normal Move Card.
Statistics
Edit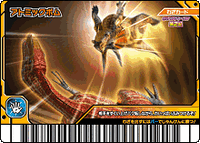 Attribute: Normal
Sign: Paper
Owner: Ursula (Alpha Gang), Rex Owen (D-Team) (never used)
Used by: Utahraptor
First Appearance: A Game Show Showdown
Used to Defeat: None
Effect: Throw your opponent into the air and jump up with them, then backflip over them and stomp them into the ground! In the anime, you jump spinning into the air, then fall down and slam into your opponent with tremendous force!
Other: It was inside Utahraptor's Dinosaur Card Capsule and activated by the same wind that it was. It was later claimed by Ursula and she used it against Ace, but it was countered by Cyclone and claimed by Rex.
TCG Lores
Edit
+500 or +800; If a level 3 Dinosaur uses this Move, it gains +800 Power instead of +500.
Utahraptor's attempt at using this Move was countered by Ace's Cyclone, leaving Utahraptor disoriented enough for Chomp to defeat it with Electric Charge.
Artwork from one of its arcade cards is also seen on the TCG Move Card Overextended Attack.
In the arcade game, a Dinosaur must win at Paper to use this Move, and needs at least 500 Technique to use it to full effect (thereby indicating those with 1400-1600 Power).
It is the only Move Card possessed by a wild dinosaur (Utahraptor) that wasn't used when it was a wild dinosaur (Styracosaurus's Move Card was separated before he was activated).
Ad blocker interference detected!
Wikia is a free-to-use site that makes money from advertising. We have a modified experience for viewers using ad blockers

Wikia is not accessible if you've made further modifications. Remove the custom ad blocker rule(s) and the page will load as expected.