Banana Surprise (also called Surprised Banana) is a Normal Move Card.
Statistics
Edit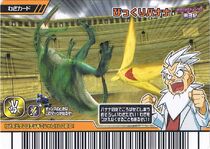 Attribute: Normal
Sign: Scissors
Effect: An Actroid walks out with a huge banana peel and throws it at your opponent's feet. Confused, they step forward, slip on the banana peel, and flip back onto their head!
TCG Lores
Edit
+400; Only an Alpha Dinosaur can use this Move. If yo lose this battle, choose 1 of your opponent's Dinosaurs in play with 1900 or less Power. Put that Dinosaur on top of your opponent's deck.
It is called "Banana Trap" in the TCG.
In the arcade game, you have to win at Scissors to use this Move.
Ad blocker interference detected!
Wikia is a free-to-use site that makes money from advertising. We have a modified experience for viewers using ad blockers

Wikia is not accessible if you've made further modifications. Remove the custom ad blocker rule(s) and the page will load as expected.