Banana Surprise (also called Surprised Banana) is a Normal Move Card.
Statistics
Edit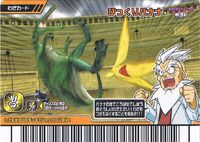 Attribute: Normal
Sign: Scissors
Usage Condition: You have to win with Scissors to use this Move.
Effect: An Actroid walks out with a huge banana peel and throws it at your opponent's feet. Confused, they step forward, slip on the banana peel, and flip back onto their head!
TCG Lores
Edit
+400; Only an Alpha Dinosaur can use this Move. If yo lose this battle, choose 1 of your opponent's Dinosaurs in play with 1900 or less Power. Put that Dinosaur on top of your opponent's deck.
It is called "Banana Trap" in the TCG.