Blitz Counter (English is Counter Blitz) is a Lighting Move Card.
Statistics
Edit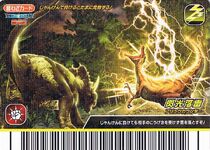 Attribute: Lightning
Sign: Rock
Effect: If you lose, a bolt of lightning will shoot down from the sky and hit your opponent!
Artwork from its various arcade cards is seen on the TCG Move Cards Energizing Spark and Crackling.
In the arcade game, you have to lose with any move button after a loss to use this Move.