Note: Although long considered to be a species of Apatosaurus, a 2015 study concluded that the original species Brontosaurus excelsus was distinct enough to be reassigned to its own genus, taking two other former Apatosaurus species with it.
Various Dinosaur King media alternately call this dinosaur "Brontosaurus" and "Apatosaurus", and they are used interchangeably on this page.
For the anime's armored Apatosaurus, see Brontikens.
General Statistics
Edit

Dinosaur King Statistics
Edit
Arcade Stats
Edit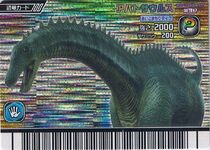 It was only available in the Japanese version.
Anime Stats
Edit
Main article: Brontikens
TCG Stats
Edit