When its fossils were first found, they were thought to belong to a whale, hence its name.
General Statistics
Edit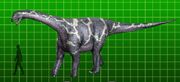 Name: Cetiosaurus oxoniensis
Name Meaning: Whale lizard
Diet: Herbivore
Length: 15-18 meters (50-60 feet)
Time Period: Middle/Late Jurassic
Classification: Eusauropoda --> Cetiosauridae
Place Found: England, Morocco
Discoverer: Owen, 1842
Dinosaur King Statistics
Edit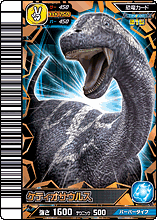 Attribute: Water
Power: 1600
Technique: 500
Sign: Scissors
TCG Lores
Edit
Exchange

When you Dino Slash this Dinosaur from your hand, you can discard 1 card and draw 1 card.

Black Dino Battery (Placid Cetiosaurus)

If you send this Dinosaur to your discard pile to Dino Slash a Black Dinosaur, this Dinosaur counts as 2 Dinosaurs.