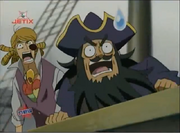 Mr. Copper is the first-mate aboard Blackbeard's pirate ship during the Ancient Caribbean Arc of Mesozoic Meltdown. He is easily frightened and largely inept, and wears an eye-patch despite having two good eyes. Blackbeard's parrot constantly comments on his bad smell. In the end, Blackbeard finally accepts him as a true pirate, after he kicks Copper off the ship (now only a small patch of broken planks with a steering wheel on it after going over a waterfall) and he successfully makes it back aboard. They are then captured by the British Navy.
Ad blocker interference detected!
Wikia is a free-to-use site that makes money from advertising. We have a modified experience for viewers using ad blockers

Wikia is not accessible if you've made further modifications. Remove the custom ad blocker rule(s) and the page will load as expected.