Critical Block is a Normal Move Card. It is not to be confused with the similar Velociraptor Move, Final Fury.
Statistics
Edit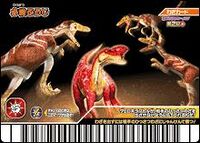 Attribute: Normal
Sign: Rock
Owner: Seth, Rod (Alpha Gang)
Used by: Terry
First Appearance: Metal Imbalance
Usage Condition: You have win against your opponent's critical move to use this Move.
Effect: A trio of Velociraptor come and block your opponent from attacking with the move button of their dinosaur's Sign during the next battle! In the anime, they stop your opponent from using their Move Cards.
Both the Critical Block and Final Fury arcade cards each have artworks that display the Velociraptor attacking the opponent and standing beside the dinosaur using the Move. The only way to distinguish the two Moves is by comparing the Japanese names: Final Fury has 4 characters in its name; Critical Block has 5 characters in its name, the last of which looks like a backwards capital "J" with a double-quote mark in the top-right gap (this: じ).
In the anime, Critical Block and Final Fury are part of the same triangular "Multiple Move" Card created by Seth.
The anime's Critical Block stops your opponent from activating Move Cards, which more closely matches the arcade's similar Troodon Move, Move Block, instead.
In the arcade, no damage is dealt by the Velociraptors themselves when Critical Block is activated, despite having the same animation as the damage-dealing Final Fury.