Cryolophosaurus ellioti was known for its unique crest, as well as for being the first named species of dinosaur from Antarctica. It has been classified in numerous theropod groups since its discovery. For now it is classified as a Tetanuran, the likelihood of its relation to Dilophosaurus far diminished from previous ideas.
General Statistics
Edit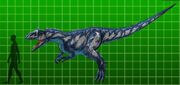 Dinosaur King Statistics
Edit
Arcade Stats
Edit
Cryolophosaurus first appeared in a pair of Normal Moves, then a third, and finally a new model appeared as a Secret Dinosaur.
Move Card
Edit
Dinosaur Card
Edit
Anime Stats
Edit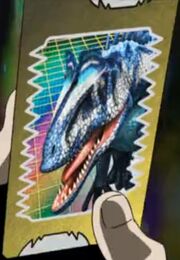 Move Cards
Edit
Freeze your opponents in a glacier with an icy blast!
Numerous snowflakes appear, which bend into arrowhead before shooting forward, pelting the opponent!
TCG Stats
Edit
[Winter's Chill]

No Player may gain Life Points.
(This Dinosaur can use Super Moves of any Element. It must still meet all other requirements on the card.)
Mesozoic Meltdown
Edit
Seth first summoned him in The Search for the Last Cosmos Stone when he betrayed the Space Pirates and stole their six Cosmos Stones. Cryolophosaurus fought against Gigas and managed to knock him down despite not having armor. Even when Armatus and Maximus joined the battle, he was fast and strong enough to both keep out of reach and pummel them directly. When they used their Spectral Moves against him, he used Blizzard Smash to trap them in a mass of ice, getting called back as Seth boarded the Backlander.
Seth summoned Cryolophosaurus again when confronted by Max during a cliffhanger, in the next episode fighting Chomp in his DinoTector form. He managed to dodge Ultimate Thunder's locking lightning bolt, darting ahead and knocking Chomp away mid-attack. He then used Snow Crystal, but Chomp was recalled before it hit. Running out into the halls, he fought against Ace and Paris in their DinoTector forms, Chomp rejoining shortly after. Cryolophosaurus used Blizzard Smash against Ace and Paris, knocking them aside. Chomp then used the newly-created Move Card Final Thunder to finally defeat Cryolophosaurus. However, Seth reclaimed his card, along with the Black Cosmos Stone, and escaped from the Backlander in an escape pod.
Cryolophosaurus reappeared later in the same episode to threaten Reese, Dr. Owen, and Patrick at the D-Lab. When Chomp, Ace, Paris, Terry, Spiny, and Tank were summoned in their DinoTector forms, he used Snow Crystal to knock them away. The dinosaur is never seen again after this scene, so what happened to him after it is unclear, probably being recalled by Seth, and his card was probably retrieved by the D-Team later after Seth got injured.