Although popularly thought of as a small stegosaur (the TCG says it's 4 meters/13 feet long), Dacentrurus was actually quite a large animal (in reality twice that length). Not all reconstructions of Dacentrurus portray it as having shoulder spikes, and some older ones place them on its hips, instead.
General Statistics
Edit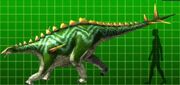 Name: Dacentrurus armatus
Name Meaning: Very Sharp Tail
Diet: Herbivore
Length: 8 meters (26 feet)
Time Period: Late Jurassic
Classification: Stegosauria --> Stegosauridae --> Dacentrurinae
Place Found: England; France; Portugal; Spain
Describer: Lucas; 1902
Dinosaur King Statistics
Edit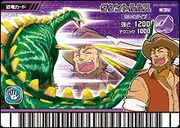 Nickname:

English: The Peerless Swords

Attribute: Earth
Power: 1200
Technique: 1000
Sign: Paper
Type: Counter Type (S2 2nd - 4th Edition, 2007 2nd - 4th+ Edition)
TCG Lores
Edit
Team Up: +300 (Pack Protector Dacentrurus)

You can play this card as a Move that gives +300 Power.

Team Up: +400 (Crag Climber Dacentrurus)

You can play this card as a Move that gives +400 Power.
Arcade Availability
Edit
2007 2nd Edition (New)
2007 3rd Edition
2007 4th Edition
Gekizan 3rd Edition
Series 2 2nd Edition (New)
Series 2 3rd Edition
Series 2 4th Edition
Ad blocker interference detected!
Wikia is a free-to-use site that makes money from advertising. We have a modified experience for viewers using ad blockers

Wikia is not accessible if you've made further modifications. Remove the custom ad blocker rule(s) and the page will load as expected.