General Statistics
Edit

Name: Dilophosaurus wetherilli
Name Meaning: Double-Crested Lizard
Diet: Carnivore
Length: 6-7 meters (20-23 feet)
Time Period: Early Jurassic
Classification: Neotheropoda --> Dilophosauridae
Place Found: Arizona, USA, China
Describer: Welles, 1954
Dinosaur King Statistics
Edit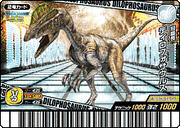 Attribute: Wind
Power: 1000
Technique: 1000
Sign: Scissors
Other: In the DS Game, a Dilophosaurus was turned into Alpha Dilophosaurus by Dr. Z and given to Laura
TCG Lores
Edit
Team Up: +300

You can play this card as a Move that gives +300 Power.
It was the third dinosaur available in Fossil Card.
The TCG may have had a Dinosaur named "Hunting Dilophosaurus" in the Time Warp Adventures booster deck as card DKTA-42, but any and all record of card DKTA-42 is mysteriously missing from all, even official, sources. The only source to name that card was the French www.hokatsu.com, and it lacked an image.
A chibi version of Dilophosaurus was set to appear in the Dainason on the Kyoryu-King official site, but the site was closed before the character, along with other the chibis, could make appearance. However, it does appear on the Dainason brochure.
Ad blocker interference detected!
Wikia is a free-to-use site that makes money from advertising. We have a modified experience for viewers using ad blockers

Wikia is not accessible if you've made further modifications. Remove the custom ad blocker rule(s) and the page will load as expected.