Dilophosaurus' placement has long been under debate, with some finding it as a coelophysoid and others as more advanced.
General Statistics
Edit

Name: Dilophosaurus wetherilli
Name Meaning: Double-Crested Lizard
Diet: Carnivore
Length: 6-7 meters (20-23 feet)
Time Period: Early Jurassic
Classification: Neotheropoda --> Ceolophysoidea(?) --> Dilophosauridae
Place Found: Arizona, USA, China
Describer: Welles, 1954
Dinosaur King Statistics
Edit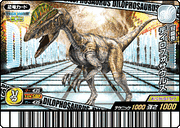 Attribute: Wind
Sign: Scissors
Power: 1000
Technique: 1000
Other: In the DS Game, a Dilophosaurus was turned into Alpha Dilophosaurus by Dr. Z and given to Laura
TCG Lores
Edit
Team Up: +300

You can play this card as a Move that gives +300 Power.
It was the third dinosaur available as a Fossil Card.
The TCG may have had a Dinosaur named "Hunting Dilophosaurus" in the Time Warp Adventures booster deck as card DKTA-42, but any and all record of card DKTA-42 is mysteriously missing from all, even official, sources. The only source to name that card was the French www.hokatsu.com (but no longer), and it lacked an image.
A chibi version of Dilophosaurus was set to appear in the Dainason on the Kyoryu-King official site, but the site was closed before the character, along with other the chibis, could make an appearance. However, it does appear on the Dainason brochure.