Statistics
Edit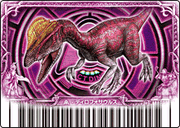 Attribute: Wind
Power: 1000
Technique: 1000
Sign: Scissors
Owner: Laura (Alpha Gang)
Other: In the DS Game, Dilophosaurus was altered by Dr. Z and given to Laura to battle Max and Rex.
TCG Lores
Edit
Team Up: +500

You can play this Dinosaur as a Move that gives +500 Power. If you do and you lose the battle, you lose 1 extra Life Point.
Ad blocker interference detected!
Wikia is a free-to-use site that makes money from advertising. We have a modified experience for viewers using ad blockers

Wikia is not accessible if you've made further modifications. Remove the custom ad blocker rule(s) and the page will load as expected.