Dino Stuffer (also called Stuffed Doll Beam) is a Normal Move Card. It was only available in the arcade game.
Statistics
Edit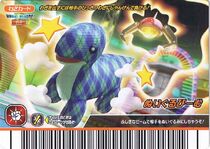 Attribute: Normal
Sign: Rock
Usage Condition: You have to lose against your opponent's Critical Move to use this Move; it activates immediately after the move buttons are pressed.
Effect: A floating Alpha Mech flies over your opponent and emits a signal down over them, turning them into a stuffed toy, preventing them from attacking!
Japanese
English

Series 2 4th Edition (New; 080-Move; ft. Grass Dinosaur toy)

Taiwanese

Series 2 4th Edition (New; 080-技; ft. Grass Dinosaur toy)
There are 8 different stuffed toys that your opponent can be turned into, with one for each of the seven elements (with two for Water: sauropods and spinosaurs each have their own).
Artwork from one of its various arcade cards is seen on the TCG Move Card Alpha Sonar (07 4th/4th+).
From tournament footage presented by current sources, it can be noted that this Move is extremely common to be used among players quite possibly due to its capability of preventing a critical move attack.