Dino Stuffer (also called Stuffed Doll Beam) is a Normal Move Card.
Statistics
Edit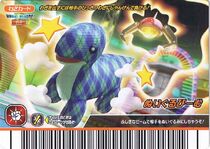 Attribute: Normal
Sign: Rock
Effect: When you lose against your opponent's critical move (the Rock-Paper-Scissors sign of their dinosaur), a floating Alpha Mech flies over your opponent and emits a signal down over them, turning them into a stuffed toy, preventing them from attacking!
There are 9 different stuffed toys that your opponent can be turned into, with one for each of the seven elements (two for Water and two for Earth: sauropods (seen above), spinosaurs, stegosaurs, and ankylosaurs each have their own).
Artwork from one of its various arcade cards is seen on the TCG Move Card Alpha Sonar.
From tournament footage presented by current sources, it can be noted that this Move is extremely common to be used among players quite possibly due to its capability of preventing a critical move attack.