Dino Swing is a Normal Move Card.
Statistics
Edit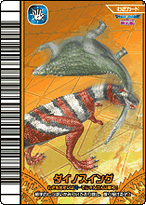 Attribute: Normal
Sign: Paper
Owner: Ursula, Zander (Alpha Gang), Seth
Used by: Tank
First Appearance: A Gameshow Showdown
Used to Defeat: Utahraptor, Ampelosaurus
Effect: Grab your opponant by the tail, swing them around repeatedly, then let go and have them smash into a wall!
Other: It was recreated by Dr. Z and he gave it to Ursula, who had Tank use it to defeat Utahraptor. Seth later used it to defeat Ampelosaurus. It was Tank's first Move Card.
TCG Lores
Edit
+400 or +700; If a Paper Dinosaur uses this Move, it gains +700 Power instead of +400.
In the arcade game, a Dinosaur must win at Paper to use this Move, and needs at least 800 Technique to use it to full effect (thereby indicating those with 1000-1200 Power).
As seen in the Gallery below, if in the arcade the attacking and target dinosaurs are too disproportionate in size, the attacker may appear to not even be biting onto the target's tail and instead into the empty air above or below it, yet still swing the target successfully. This is the result of there being only one animation cycle for the Move.
As with most Move Cards, it would be very difficult for a real dinosaur to execute this attack, the bite strength needed to hold onto another dinosaur's weight being unreasonable save for special cases of for instance large theropods swinging rather small dinosaurs.
Ad blocker interference detected!
Wikia is a free-to-use site that makes money from advertising. We have a modified experience for viewers using ad blockers

Wikia is not accessible if you've made further modifications. Remove the custom ad blocker rule(s) and the page will load as expected.