Dino Swing is a Normal Move Card.
Statistics
Edit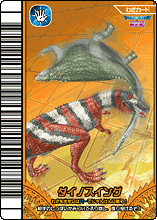 Attribute: Normal
Sign: Paper
Effect: Grab your opponent by the tail, swing them around repeatedly, then let go and have them smash into a wall!
Anime Stats
Edit
TCG Lores
Edit
+400 or +700; If a Paper Dinosaur uses this Move, it gains +700 Power instead of +400.
In the arcade game, a Dinosaur must win at Paper to use this Move, and needs at least 800 Technique to use it to full effect (thereby indicating those with 1000-1200 Power).
As seen in the Gallery below, if in the arcade the attacking and target dinosaurs are too disproportionate in size, the attacker may appear to not even be biting onto the target's tail and instead into the empty air above or below it, yet still swing the target successfully. This is the result of there being only one animation cycle for the Move.
As with most Move Cards, it would be very difficult for a real dinosaur to execute this attack, the bite strength needed to hold onto another dinosaur's weight being unreasonable save for special cases of for instance large theropods swinging rather small dinosaurs.