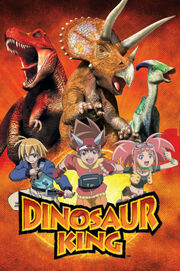 This is the Episode Listing for Series 1 of the Dinosaur King anime. Series 2 can be found at Dinosaur King Mesozoic Meltdown.
It was first premiered in Japan on TV Asahi on February 4, 2007 with the name Ancient Ruler Dinosaur King DKidz Adventure (古代王者恐竜キング Dキッズ・アドベンチャー Kodai Ōja Kyōryū Kingu D Kizzu Adobenchā). An English dubbed version of the series was released in America on September 8, 2007, launched under the name Dinosaur King on 4Kids TV.
Plot Summary
Edit
Main Characters
Edit
Main article: Dinosaur King Theme Songs
Japanese Opening Theme: Chiisa na Bokura no Ooki na Heart (小さな僕らの大きなハート) by ICHIKO
Japanese Ending Theme: Kyouryuu Muscle (恐竜マッスル) by Hiromichi Satou
English Opening/Ending Theme: Dinosaur King Theme Song
Episode Listing
Edit
Ad blocker interference detected!
Wikia is a free-to-use site that makes money from advertising. We have a modified experience for viewers using ad blockers

Wikia is not accessible if you've made further modifications. Remove the custom ad blocker rule(s) and the page will load as expected.