This is the second Booster Pack in the Dinosaur King Trading Card Game, after the Base Set, and before the Easter Set and Alpha Dinosaurs Attack.
Introduction
Edit
It's the D-Team against the Alpha Gang with new Dinosaurs and Move Cards, and introducing four more Special Dinosaurs with Battle Modes!
Specifications
Edit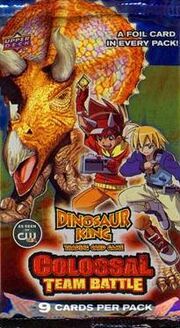 Set Name: Series 2: Colossal Team Battle
Set ID: DKTB
TCG Release Date: 2008
Number of Cards on Set: 100
TCG Rarity Breakdown:

50x Common
25x Silver Rare
15x Gold Rare
10x Colossal Rare
Card List
Edit
---
Ad blocker interference detected!
Wikia is a free-to-use site that makes money from advertising. We have a modified experience for viewers using ad blockers

Wikia is not accessible if you've made further modifications. Remove the custom ad blocker rule(s) and the page will load as expected.