This is the first starter deck in the Dinosaur King Trading Card Game, before the Dino Slash starter, and was released before the Base Set.
Introduction
Edit
An easy way to get to know the Dinosaur King TCG with an assortment of cards to help you start your collection, and a preview of what you'll get with each Element, with particular focus on Fire and Lightning. Includes 2 exclusive Super Move Cards!
Specifications
Edit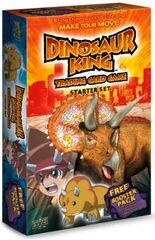 Set Name: Starter 1: Starter Set
Set ID: DKSS
TCG Release Date: 2008
Number of Cards on Set: 32
TCG Rarity Breakdown:

28x Common
1x Silver Rare
3x Oversized Exclusive
Card List
Edit
These are only the cards exclusive to the Starter Set, as most of them are also available in the Base Set. (Not all images reflect the foil rarities of the cards in the deck.)
Ad blocker interference detected!
Wikia is a free-to-use site that makes money from advertising. We have a modified experience for viewers using ad blockers

Wikia is not accessible if you've made further modifications. Remove the custom ad blocker rule(s) and the page will load as expected.