Diving Press is a Normal Move Card.
Statistics
Edit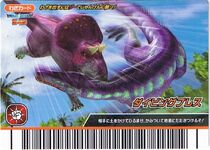 TCG Lores
Edit
+400 or +700; If a Rock Dinosaur uses this Move, it gains +700 Power instead of +400.
In the arcade game, a Dinosaur must win at Rock to use this Move, and needs at least 800 Technique to use it to full effect (thereby indicating those with 1000-1200 Power).
As seen in the Gallery below, some dinosaur attacker and target combinations may cause it to appear as if the attacker isn't even biting the target; this is due to there only being one animation cycle for the Move, and as such, not all dinosaur model combinations will match up properly.
In real life, it would be impossible for most dinosaurs to perform this Move owing to the bite strength needed; only some large theropods and perhaps ceratopsians would have a sufficient bite strength, though the latter would be largely incapable of the needed leap.