Dynamic Galaxy (Dino Galaxy, Meteor Strike) is a Secret Move Card.
Statistics
Edit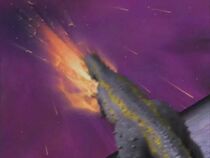 Attribute: Secret
Sign: Rock
Owner: Sheer (Space Pirates)
Used By: Deinonychus
Used to Defeat: None
Debut: The No-Fun Shogun
Effect: The Deinonychus launch themselves high into the air, then bring down a flaming meteor at their opponent! In the arcade game, a swarm of sidekick Deinonychus shoot down from the sky separately and pelt the opponent.
Other: Like all Secret Moves, it has no actual card. In the arcade game, simply swipe a Rock Normal Move Card listing any recommended Technique to access this Move.
This was the only Deinonychus attack that Dr. Z's Deinonychus trio didn't use.
Ad blocker interference detected!
Wikia is a free-to-use site that makes money from advertising. We have a modified experience for viewers using ad blockers

Wikia is not accessible if you've made further modifications. Remove the custom ad blocker rule(s) and the page will load as expected.