Earthquake is an Earth Move Card.
Statistics
Edit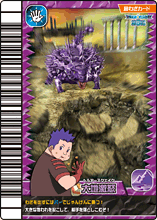 TCG Lores
Edit
+1000; (Only a Rock Earth Dinosaur can use this Move.)
The artwork from the SAS Earthquake TCG card comes from a Sand Trap arcade card.
Artwork from its various arcade cards is seen on the TCG Move Cards Deep Canyon, Victory Crater, and Ultimate Earthquake.
In the arcade game, you have to win at Paper to use this Move.
The animation made for this move is a rather peculiar one as it acts on the terrain itself. To show a "splitting ground", a second layer of land (in the shape of a circle) with the same terrain texture was applied over the original terrain, creating the illusion of a splitting terrain.

Interestingly enough, when the dinosaur sinks into the gap, it seems that a black void is placed right under the terrain.
Ad blocker interference detected!
Wikia is a free-to-use site that makes money from advertising. We have a modified experience for viewers using ad blockers

Wikia is not accessible if you've made further modifications. Remove the custom ad blocker rule(s) and the page will load as expected.