General Statistics
Edit

Dinosaur King Statistics
Edit
Arcade Stats
Edit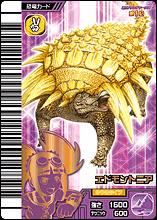 Anime Stats
Edit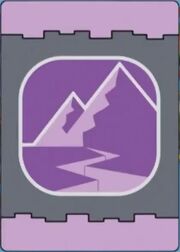 Move Cards
Edit
Edmontonia spun and slammed into a large round boulder, sending it rolling at its opponent!
TCG Stats
Edit
Edmontonia
Edit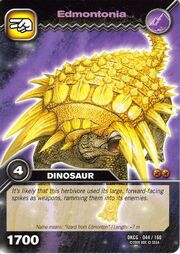 Plated Edmontonia
Edit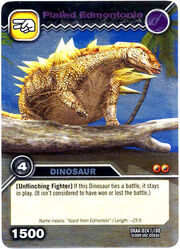 [Unflinching Fighter]

If this Dinosaur ties a battle, it stays in play. (It isn't considered to have won or lost the battle.)
Caribbean Edmontonia
Edit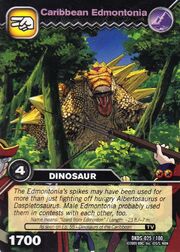 Mesozoic Meltdown
Edit
Edmontonia was first summoned by Gavro in Dinosaurs of the Caribbean to dig a hole looking for the Blue Cosmos Stone (in the wrong spot) and ended up chasing away the nearby British soldiers who were pursuing Jim and his father, but was quickly recalled. Gavro summoned it again later to attack the Max and Rex. It fought Ace in its Spectral Armor form, but started losing to his DinoTector form. When Rex was about to use a Move Card, Gavro summoned Diceratops in its Spectral Armor form alongside Edmontonia, but then Terry joined the battle in his DinoTector form. When the battle broke onto the beach, Edmontonia used Rock Roller against them, but Terry countered it with Ultimate Fire and defeated Edmontonia, destroying its Spectral Armor. Its card was presumably reclaimed by Dr. Z or the Alpha Trio shortly thereafter.