Edmontosaurus has had a very long and convoluted fossil history, with its species at many points overlapping with those of many questionable or now-invalid creatures such as Agathaumas, Anatosaurus, Anatotitan, Claosaurus, Diclonius, Hadrosaurus, Thespesius, and Trachodon. It has also been recently discovered to have had a crest-like mass of soft tissue on the top of its head.
General Statistics
Edit

Dinosaur King Statistics
Edit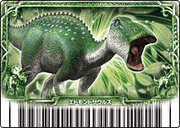 Attribute: Grass
Power: 1400
Technique: 600
Sign: Scissors
TCG Lores
Edit
Super Heal

When this Dinosaur uses a Super Move and wins, you gain 1 Life Point.