Due to its extremely fragmentary fossils known (only some parts of a single skull), Eocarcharia's full size is uncertain, leading to the large size range listed below.
General Statistics
Edit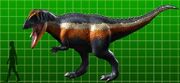 Name: Eocarcharia dinops
Name Meaning: Fierce-Eyed Dawn Shark
Diet: Carnivore
Size: 8-11 meters (26-35 feet)
Time Period: Early/Middle Cretaceous
Classification: Allosauroidea --> Carcharodontosauridae
Place Found: Niger
Discoverer: Sereno and Brusatte, 2008
Dinosaur King Statistics
Edit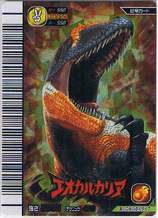 It is one of the very few dinosaurs to not appear in the TCG.
Ad blocker interference detected!
Wikia is a free-to-use site that makes money from advertising. We have a modified experience for viewers using ad blockers

Wikia is not accessible if you've made further modifications. Remove the custom ad blocker rule(s) and the page will load as expected.