Statistics
Edit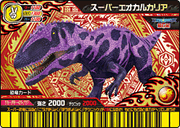 Species: Eocarcharia
Attribute: Fire
Power: 2000
Technique: 2000
Sign: Scissors
Owner: Goma
The Kyoryu-King official site says that its Technique is 1000, although the card says 2000.
In an arcade game idling video, Super Eocarcharia is seen attacking with blue mist coming out of its mouth, sort of like a blue version of Venom Fang (Eocarcharia's Shadow Fire ability?).
Eocarcharia is the only Super Dinosaur where its coloration doesn't match its element. Super forms seem to bring out the inner element of a dinosaur, and all other Super Fire Dinosaurs are orange, yellow, and dark gray, while purple is for Super Earth Dinosaurs.
Ad blocker interference detected!
Wikia is a free-to-use site that makes money from advertising. We have a modified experience for viewers using ad blockers

Wikia is not accessible if you've made further modifications. Remove the custom ad blocker rule(s) and the page will load as expected.