General Statistics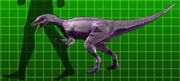 Name: Eoraptor lunensis
Name Meaning: Dawn Thief
Diet: Omnivore
Length: 1 meter (3 feet)
Time Period: Middle/Late Triassic
Classification: Saurischia --> Theropoda
Place Found: Ischigualasto Formation, Argentina
Describer: Ricardo Martinez, 1991
Dinosaur King Statistics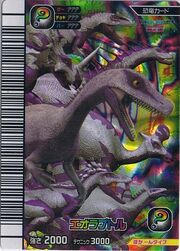 Trivia
On one of the Polacanthus cards, a golden Eoraptor is seen. This indicates that Eoraptor was an altered dinosaur and in result, it's skin color changed.
While originaly classified as an early theropod, it may also have been a very primitive sauropodomorph, could have existed before these two separate groups as an early saurischian, existed before the two main dinosaur branches split, or it may not be a true dinosaur (these last two are the least likely). In any case, there is no certainty. 
Eoraptor and Pawpawsaurus are the only Secret dinosaurs not to appear in the anime. However, Pawpawsaurus has appeared in the anime as a Move Card dinosaur.
Gallery
Videos