Technically speaking, "Eucentrosaurus" is an invalid name that was given to a ceratopsid when its original name ("Centrosaurus") was thought to be preoccupied by another animal. As it was not, this renaming was unnecessary, and Eucentrosaurus is officially the same as Centrosaurus.
General Statistics
Edit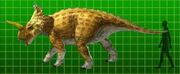 Name: Eucentrosaurus apertus
Name Meaning: Well-Pointed Lizard
Diet: Herbivore
Length: 5.5-6 meters (18-20 feet)
Time Period: Late Cretaceous
Classification: Ceratopsidae --> Centrosaurinae --> "Centrosaurini"
Place Found: North America
Describer: Chure and McIntosh; 1989
Dinosaur King Statistics
Edit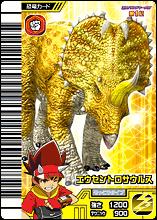 TCG Lores
Edit
Power Shield (Water's Edge Eucentrosaurus)

If you have 2 other Lightning Dinosaurs in play when this Dinosaur loses a battle, you lose 1 less Life Point from that battle.
Dr. Taylor's arcade comment:

The horn on its nose was long and slightly curved forward. It lives in big herds.