The only known Eustreptospondylus specimen is a 15-foot juvenile or sub-adult, so its maximum size is uncertain. It is extremely similar to Magnosaurus, another megalosaur.
General Statistics
Edit

Name: Eustreptospondylus oxoniensis
Name Meaning: Well-curved Vertebrae
Diet: Carnivore
Length: 4.5-6 meters (15-20 feet)
Time Period: Middle/Late Jurassic
Classification: Megalosauroidea --> Megalosauridae --> Eustreptospondylinae
Place Found: England
Describer: Walker, 1964
Dinosaur King Statistics
Edit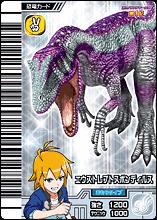 Attribute: Wind
Power: 1200
Technique: 1000
Sign: Scissors
TCG Lores
Edit
Transformation

At the start of your turn, reveal cards from the top of your deck until you reveal a level 4 Dinosaur. Dino Slash that Dinosaur, return this Dinosaur and all the other cards you revealed to your deck, then shuffle your deck.