Final Fury (Last Power in the Japanese arcade) is a Normal Move Card. It is not to be confused with the similar Velociraptor-featuring Move, Critical Block.
Statistics
Edit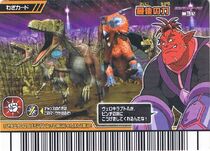 Attribute: Normal
Sign: Rock
Owner: Seth
Used by: Terry
First Appearance: Metal Imbalance
Used to Defeat: Chomp
Effect: A trio of Velociraptor come and save you from danger by hitting your opponent for more damage when your stamina is very low! In the anime, the Velociraptor turn into energy streams and latch onto the opponent, pulling them up into the air before slamming them into he ground.
TCG Lores
Edit
+200 or +1200; If you have 5 or less Life Points, the Dinosaur that uses this Move gains +1200 Power instead of +200.
Both the Critical Block and Final Fury arcade cards each have artworks that display the Velociraptor attacking the opponent and standing beside the dinosaur using the Move. The only way to distinguish the two Moves is by comparing the Japanese names: Final Fury has 4 characters in its name; Critical Block has 5 characters in its name, the last of which looks like a backwards capital "J" with a double-quote mark in the top-right gap (this: じ).
In the anime, Critical Block and Final Fury are part of the same triangular "Multiple Move" Card created by Seth from the original Velociraptor dinosaur card.
There are 2 versions of the Final Fury TCG card (from DKCG and DKDS) that have different artworks, but are otherwise the same. Of the two, only the second features Velociraptor.
Interestingly, in the arcade, though hopping on the opponent is here shown to decrease their health significantly, the same animation is used for Critical Block, which deals no damage.
Artwork from several of its various arcade cards are used on the TCG Move Cards Elemental Tag Team (07 2nd) and Elemental Elite (06 6th).