Final Thunder (called Inazuma Phalanx in the arcade) is a Lightning Move Card.
Statistics
Edit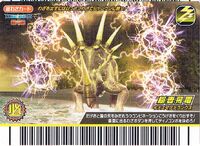 Attribute: Lightning
Sign: Special
Owner: Dr. Z (Alpha Gang) (never used), Max Taylor (D-Team)
Used by: Chomp
First Appearance: Clash for the Cosmos Stones
Used to Defeat: Cryolophosaurus
Effect: Throw your opponent into the air. An arc of electric spheres will appear over you, which will expand into stakes of electricity. Shoot them at your opponent! When Chomp used it, he shot a large bolt of lightning before the spheres appeared (in a manner similar to Lightning Strike).
Other: It was Chomp's ninth and final new Move Card.
Dr. Z specifically made this Move so that Max could defeat Cryolophosaurus.
In the arcade game, you have to win using the move button of your dinosaur's sign to use this Move. It also takes the Move Card slot of this Sign when equipped.
It was the only of the "Special" Sign Move Cards to be featured in the anime.
It is the last new Lightning Move Card to appear in the Anime.
Ad blocker interference detected!
Wikia is a free-to-use site that makes money from advertising. We have a modified experience for viewers using ad blockers

Wikia is not accessible if you've made further modifications. Remove the custom ad blocker rule(s) and the page will load as expected.