Flare Sword is a Fire Move Card.
Statistics
Edit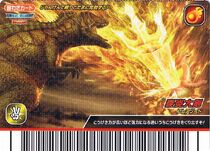 This card was only available in Japanese arcade. It is the second after-effect move for Fire
Japanese Kanji: 豪炎大剣 (Great Flare Sword)
Sign: Scissors
Usage Condition: This Move sometimes activates after you win with any move button.
Effect: Create a huge floating sword out of fire, and then have it crash down onto your opponent!
Ad blocker interference detected!
Wikia is a free-to-use site that makes money from advertising. We have a modified experience for viewers using ad blockers

Wikia is not accessible if you've made further modifications. Remove the custom ad blocker rule(s) and the page will load as expected.