General Statistics
Edit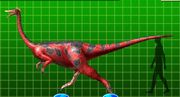 Name: Gallimimus bullatus
Name Meaning: Chicken Mimic
Diet: Omnivore
Length: 6-8 meters (20-26 feet)
Time Period: Late Cretaceous
Classification: Ornithomimosauria --> Ornithomimidae
Place Found: Nemegt Formation, Mongolia
Describer: Osmolska, Roniewicz and Barsbold; 1972
Dinosaur King Statistics
Edit
Attribute: Normal
Appears In: Move Cards (Rush Galli)
Power (TCG): 1600
Sign: Rock
Move Cards
Edit
Gallimimus comes and lowers your opponent's Technique.
TCG Lores
Edit
Knockout Strike

When this Dinosaur wins a battle, you can return 1 of your opponent's Dinosaurs in play to their hand.
Ad blocker interference detected!
Wikia is a free-to-use site that makes money from advertising. We have a modified experience for viewers using ad blockers

Wikia is not accessible if you've made further modifications. Remove the custom ad blocker rule(s) and the page will load as expected.