General Statistics
Edit

Name: Giganotosaurus carolinii
Name Meaning: Gigantic Southern Lizard
Diet: Carnivore
Length: 12-13 meters (40-43 feet)
Time Period: Middle/Late Cretaceous
Classification: Allosauroidea --> Carcharodontosauridae --> Giganotosaurinae
Place Found: Argentina
Describer: Coria and Salgado, 1995
Dinosaur King Statistics
Edit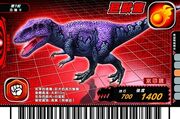 TCG Lores
Edit
Rampage: 1700

During your turn, this Dinosaur's power is 1700 (from 1400).

Fiery Fighter (Savage Giganotosaurus)

When this Dinosaur attacks or is attacked, you can put 1 Dinosaur from your hand on top of your deck. If you do, this Dinosaur's Power is 1700 (from 1400) during this battle.

Spectral Summoning: Fire (Wildfire Giganotosaurus)

When you Dino Slash this Dinosaur from your hand, you can reveal a Fire Spectral Armor Dinosaur from your hand. If you do, search your deck for a Dinosaur that can be used to Dino Slash that Spectral Armor Dinosaur and add it to your hand. Then shuffle your deck.

Ferocity: 1400 (Scary Giganotosaurus)

When this Dinosaur uses a regular Move, it has 1400 Power (from 1200) during the battle.
Giganotosaurus was one of several theropods (many of which are carcharodontosaurids) that were larger than Tyrannosaurus.
Giganotosaurus was the only theropod bigger than the T. rex not to be shown in the anime.
In the Arcade Game, this is one of the default dinosaurs used in 2-Player Battles.
Ad blocker interference detected!
Wikia is a free-to-use site that makes money from advertising. We have a modified experience for viewers using ad blockers

Wikia is not accessible if you've made further modifications. Remove the custom ad blocker rule(s) and the page will load as expected.