Gyro Claw (Gyro Slasher) is a Secret Move Card.
Statistics
Edit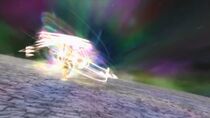 Attribute: Secret
Sign: Scissors
Owner: Max Taylor (D-Team) (never used), Rex Owen (D-Team)
Used By: Therizinosaurus
Used to Defeat: Terry, Spiny, Black T-Rex (as a Fusion Move)
Debut: Daddy Dearest
Effect: Spin around to turn your claws into a spinning wall and slash your opponent!
Other: Like all Secret Moves, it has no actual card. In the arcade game, simply swipe a Scissors Normal Move Card listing a recommended Technique to access this Move.
Ad blocker interference detected!
Wikia is a free-to-use site that makes money from advertising. We have a modified experience for viewers using ad blockers

Wikia is not accessible if you've made further modifications. Remove the custom ad blocker rule(s) and the page will load as expected.