Haste is a Normal Move Card.
Statistics
Edit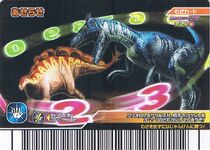 Attribute: Normal
Sign: Paper
Effect: After you win, at the beginning of the next battle, Cryolophosaurus will rush your opponent's timer, reducing their time to decide which sign to attack with from 10 seconds to only 1 second! (10 to 3 seconds first. If you win on the consecutive round, then you can push it from 3 to 1 second)
Whenever this Move summons Cryolophosaurus, there seems to be a miscalculation of the walking animation of the dinosaur, making it continue its walk cycle for a second after it stopped moving forward. This error is also seen with Leaellyn Cure, Counter & Recovery, and Light Recovery.