Heat Eruption is a Fire Move Card.
Statistics
Edit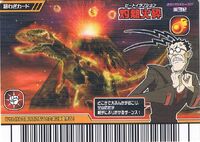 Attribute: Fire
Sign: Rock
Owner: Sheer (Space Pirates), Ursula (Alpha Gang)
Used by: Mapusaurus, Terry
First Appearance: Elements of Surprise
Used to Defeat: None
Effect: A shower of flaming meteors rain down on your opponent! When Mapusaurus used this Move, it accidentally caused a nearby volcano to erupt.
Other: Sheer had her Mapusaurus use it against the D-Team, but using it caused the nearby volcano to erupt. After its defeat, the card was reclaimed by the D-Team. Ursula later had Terry use it against Genie, but it was countered by Hydro Cutter. It was Terry's eighth Move Card.
Artwork from its various arcade cards is seen on the TCG Move Cards Fiery Rage and Volcanic Eruption.
In the arcade game, this Move sometimes activates after a tie.
It is the only Fire Move used in the anime which does not include fire coming from the dinosaur's mouth (unless one counts Ultimate Fire, which still features Terry pushing a wall of fire with his mouth).
Ad blocker interference detected!
Wikia is a free-to-use site that makes money from advertising. We have a modified experience for viewers using ad blockers

Wikia is not accessible if you've made further modifications. Remove the custom ad blocker rule(s) and the page will load as expected.