Hurricane Beat is a Wind Move Card.
Statistics
Edit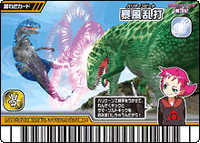 TCG Lores
Edit
+800; If your opponent's Dinosaur in this battle is a Grass Dinosaur, your opponent loses 2 Life Points after the battle.
An anime scene featuring this Move is also seen on the TCG Move Card Spectral Hurricane Beat.
In the arcade game, you have to win at Scissors after a loss to use this Move.