Hydro Cutter is a Water Move Card.
Statistics
Edit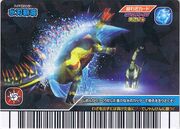 Attribute: Water
Sign: Rock
Owner: Sheer (Space Pirates), Zander (Alpha Gang)
Appearances: Malice in the Palace, Fate of the Cosmos
Effect: Call up a giant blade of water and send it forward to slice through your opponent! In the arcade, it slides across the ground like a shark fin, but in the anime, it flies spinning through the air.
Other: Sheer had Genie use it to counter Terry's Heat Eruption. He then used it to defeat Terry, Spiny, and Tank, but after Chomp and Ace defeated him, the card was reclaimed by the D-Team. In the finale, Zander had Spiny use the Move to help break through the Dark Pterosaur. It was Spiny's seventh Move card.
Spiny used it as part of the Fusion Move that punched a hole in the Dark Pterosaur's outer shield.
It is the only Move Card in the anime where the image shown on the card is an actual scene from the anime. This also makes it the only known Move whose card image features a dinosaur wearing armor, and though the Ultimate Moves may have done the same given that armor is a requirement for their use, their images were never seen and so can't be confirmed.
In the arcade game, you have to win at Rock after losing to use this Move.
Ad blocker interference detected!
Wikia is a free-to-use site that makes money from advertising. We have a modified experience for viewers using ad blockers

Wikia is not accessible if you've made further modifications. Remove the custom ad blocker rule(s) and the page will load as expected.