Indosuchus is often considered dubious due to its fragmentary fossils that are difficult to distinguish from its close and similarly named relative, Indosaurus, and from other theropods of the same time and place.
General Statistics
Edit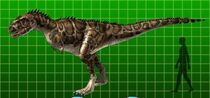 Name: Indosuchus raptorius
Name Meaning: Indian Crocodile
Diet: Carnivore
Length: 6 meters (20 feet)
Time Period: Late Cretaceous
Classification: Abelisauridae --> Carnotaurinae
Place Found: India
Describer: von Huene and Matley, 1933
Dinosaur King Statistics
Edit
Arcade Stats
Edit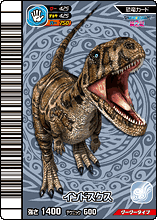 It was only available in the Japanese version.
TCG Stats
Edit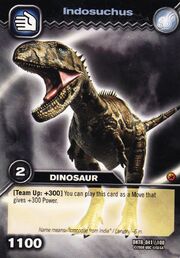 Attribute: Wind
Sign: Paper
Power: 1100
Level: 2
Life: 1
Card Code: DKTB-041/100
Card Rarity: Common
Image From: (new art)
[Team Up: +300]

You can play this card as a Move that gives +300 Power.
Oddly, Indosuchus is the final dinosaur in the dinosaur card sections of the first three arcade wave card lists it appears in, Kakushin 2nd-4th.