Statistics
Edit
Arcade & DS
Edit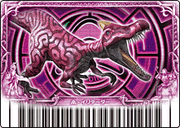 In Japanese version, it initially was available as limited exchange promote card with all Alpha Dinosaurs.
Japanese

Alpha Gang's Ambition limited exchange card series (ACT001-竜; Defense Type)
Non-sale Alpha Dinosaurs' Egg (EGG-003-竜)
Kakushin 6th Edition Hyper Battle Musuem (ACT012; Poison Type)

English: 2008 Special Edition (ACT001-Dino)
Taiwanese: 2008 Special Edition (ACT001-龍)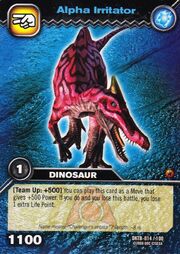 Species: Irritator
Attribute: Water
Sign: Scissors
Power: 1100
Level: 1
Life: 1
Card Code: DKTB-014/100
Card Rarity: Common
Abilities:
[Team Up: +500]

You can play this card as a Move that gives +500 Power. If you do and lose this battle, you lose 1 extra Life Point.