While popularly thought of as being 50 feet long, both of its species (L. lambei and L. magnicristatus) were only about 30 feet long. A former 3rd species, "L." laticaudus, was the 50-footer, but was in 2012 reclassified as the distinct genus Magnapaulia.
General Statistics
Edit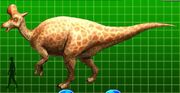 Name: Lambeosaurus lambei
Name Meaning: Lambe's Lizard
Diet: Herbivore
Length: 9-10 meters (30-33 feet)
Time Period: Late Cretaceous
Classification: Hadrosauridae --> Lambeosaurinae --> Lambeosaurini
Place Found: Canada; USA; Mexico
Describer: Parks, 1923
Dinosaur King Statistics
Edit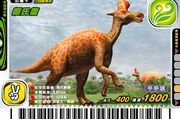 Attribute: Grass
Power: 1800
Technique: 400
Sign: Scissors
Other Info: In the arcade, there are 2 species of Lambeosaurus: Lambeosaurus lambei, and Lambeosaurus magnicristatus. Thus, there are 2 different cards. It is one of the dinosaurs that Eoraptor can transform into
TCG Lores
Edit
Super Heal (Charging Lambeosaurus)

When this Dinosaur uses a Super Move and wins the battle, you gain 1 Life Point.

Mortal Crushing (Prairie Lambeosaurus)

When you Dino Slash this Dinosaur, you can pay 1 Life Point. If you do, put the top 3 cards of your opponent's deck in their discard pile.
Ad blocker interference detected!
Wikia is a free-to-use site that makes money from advertising. We have a modified experience for viewers using ad blockers

Wikia is not accessible if you've made further modifications. Remove the custom ad blocker rule(s) and the page will load as expected.