General Statistics
Edit
Name: Lambeosaurus magnicristatus
Name Meaning: Large-Crested Lambe's Lizard
Diet: Herbivore
Length: 9 meters (30 feet)
Time Period: Late Cretaceous
Classification: Hadrosauridae --> Lambeosaurinae --> Lambeosaurini
Place Found: Montana, Canada
Describer: Sternberg, 1935
Dinosaur King Statistics
Edit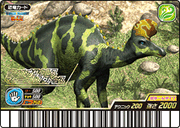 Sign: Paper
Power: 2000
Technique: 200
Attack:

Paper (Critical): 750
Scissors/Paper: 500

Type: Blunder Type
Card Rarity: Gold
Arcade Nickname/Catchcopy: 深綠の工リート (Dark Green Artificial)
Other: It is another species of Lambeosaurus, but is not altered; Lambeosaurus lambei is the "normal" species.
Availability
Edit
Lambeosaurus magnicristatus is only available in Japanese version.
Kakushin 2nd Edition (New; 008)
Kakushin 3rd Edition (008)
Kakushin 4th Edition (008)
Kakushin 6th Edition Hyper Battle Museum (004)
It was the third gold rarity Grass Dinosaur card in the arcade.
Lambeosaurus magnicristatus doesn't have a TCG card, but does appear on Regenerating Whip.
Ad blocker interference detected!
Wikia is a free-to-use site that makes money from advertising. We have a modified experience for viewers using ad blockers

Wikia is not accessible if you've made further modifications. Remove the custom ad blocker rule(s) and the page will load as expected.