General Statistics
Edit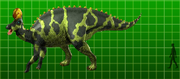 Name: Lambeosaurus magnicristatus
Name Meaning: Large-Crested Lambe's Lizard
Diet: Herbivore
Length: 9 meters (30 feet)
Time Period: Late Cretaceous
Classification: Hadrosauridae --> Lambeosaurinae --> Lambeosaurini
Place Found: Montana, Canada
Describer: Sternberg, 1935
Dinosaur King Statistics
Edit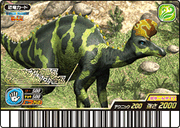 Sign: Paper
Power: 2000
Technique: 200
Attack:

Paper (Critical): 750
Scissors/Paper: 500

Type: Blunder Type
Arcade Nickname/Catchcopy: 深綠のエリート (Dark Green Elite)
Card Rarity: Gold
Other: It is another species of Lambeosaurus, but is not altered; Lambeosaurus lambei is the "normal" species.
Lambeosaurus magnicristatus was only available in Japanese version.
Kakushin 2nd Edition (New; 008-竜)
Kakushin 3rd Edition (008-竜)
Kakushin 4th Edition (008-竜)
Kakushin 6th Edition Hyper Battle Museum (004-竜)
Attribute: Grass
Sign: Scissors
Power: 2400
Level: 7
Life: 4
Card Code: DKJC - 029/100
Card Rarity: Thai Common
Abilities: TBA (unreadable on only known image)
It is the third gold rarity Grass Dinosaur card in the arcade.
Ad blocker interference detected!
Wikia is a free-to-use site that makes money from advertising. We have a modified experience for viewers using ad blockers

Wikia is not accessible if you've made further modifications. Remove the custom ad blocker rule(s) and the page will load as expected.