General Statistics
Edit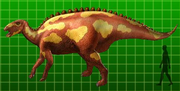 Name: Lanzhousaurus magnidens
Name Meaning: Lanzhou Lizard
Diet: Herbivore
Length: 9-10 meters (30-33 feet)
Time Period: Early Cretaceous
Classification: Iguanodontia --> "Iguanodontidae"
Place Found: China
Describer: You, Ji & Li, 2005
Dinosaur King Statistics
Edit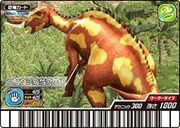 Sign: Paper
Power: 1800
Technique: 300
Attack:

Paper (Critical): 850
Rock/Scissors: 425

Types:

Rock-Rock Type (Japanese Kakushin 4th Edition)
Lucky 7 Type (Japanese Kakushin 6th Edition Hyper Battle Museum)

Arcade Nickname/Catchcopy: 草食竜は歯が命 (Life of Herbivore Dragon's Tooth)
Card Rarity: Sliver
Lanzhousaurus was only available in Japanese version.
Kakushin 4th Edition (New; 010-竜; Rock-Rock Type)
Kakushin 6th Edition Hyper Battle Museum (008-竜; Lucky 7 Type)
Attribute: Grass
Owner: Sheer (Spectral Space Pirates), Max Taylor (D-Team)
Other: Its regular card was never directly seen, though its Spectral Armor version was. It is the last new Grass Dinosaur in the series.
Move Cards
Edit
Lanzhousaurus sucked most of the energy out of Chomp.
Lanzhousaurus
Edit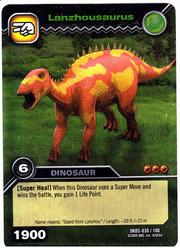 Attribute: Grass
Sign: Scissors
Power: 1900
Level: 6
Life: 3
Card Code: DKDS-030/100
Card Rarity: Silver Rare
Other Forms: Spectral Armor Lanzhousaurus
Abilities:
[Super Heal]

When this Dinosaur uses a Super Move and wins the battle, you gain 1 Life Point.
unknown Lanzhousaurus variant
Edit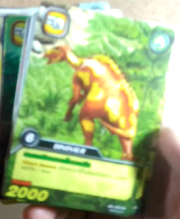 Attribute: Grass
Sign: Scissors
Power: 2000
Level: 6
Life: 3
Card Code: DKJC-030/100
Card Rarity: Thai Common
Abilities: (unreadable)
Mesozoic Meltdown
Edit
Sheer summoned him in a cave to head off the D-Team, because they were closing in on the Purple Cosmos Stone. It fought against Chomp, using Power Drain to suck away a lot of his energy. When Ace was summoned, he fought with them in his Spectral Armor form alongside Gavro's Carcharodontosaurus. Ace used Cyclone to throw him into a wall, and Chomp defeated him with Ultimate Thunder. His card was reclaimed by Max.
Dr. Taylor's arcade comments:

Original: イグアノドンのなかまで、とても大きい歯を持っている。歯の大きさは長さ14cm、はば7.5cmもあった。
Translation: A herbivore related to Iguanodon. It has big teeth which 14 cm in length and 7.5 cm in width.

It is the fifth Sliver rarity Grass Dinosaur card in the arcade.